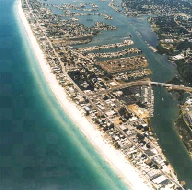 Clearwater Beach
Geography: : Located across the Memorial Causeway from downtown Clearwater, Clearwater Beach's 2.5-mile shore stretches from north to south. Its busy streets feel more like a booming Mexico. And nearby Sand Key Park is one of Pinellas County's gems, with its gulf access and park amenities.

History: Until 1916, Clearwater Beach was accessible only by boat or a long swim. That year, a rickety, 2-mile wooden bridge was constructed, and in 1917, the Clearwater Beach Hotel opened for business to accommodate visitors to the then-remote beach town. The latest Memorial Causeway Bridge has been open since August 2005.

Beach: The miles of shoreline provides access to countless water sports -- jet-skiing, Wave-Runners, parasailing, dolphin excursions and more. Arrive early to stake out a good spot. Jutting out into the Gulf is Pier 60, which has a daily sunset show with live entertainment.

Amenities:With dolphin-sighting cruises, mini golf, an Internet coffee house, spa and dozens of restaurants, it could take days to run out of amusements and resort to actually lying on the sand. For that beach party feel, dine al fresco at Palm Pavilion on the north end or Shephard's down south. Afterwards, take a stroll along Mandalay Avenue for ice cream and souvenirs.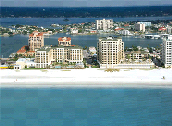 Clearwater Beach Real Estate:
A variety of options are available.

Single family homes: on the island are priced from the low $200,000 range to over $5,000,000 for a spectacular Gulf Front Home.

Condominiums: All shapes, sizes, finishes and locations are available as low as $75,000 to high of $5,000,000.
*Business Opportunities also available.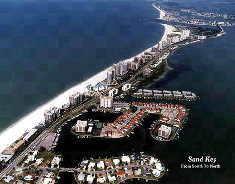 Sand Key/Clearwater
Ninety-five acres are located on Sand Key, a barrier island between the Gulf of Mexico and the Florida mainland. Clearwater Pass, leading from the Gulf to the Intracoastal waterway, separates the park from the popular resort area of Clearwater Beach. The park welcomes more than one million visitors each year.

At Sand Key Park, you'll find cabana rentals, outdoor showers and two beach wheelchairs among other amenities. The park also has a paws park, but dogs aren't allowed on the beach.

You may also enjoy a stroll around the waterfront Shoppes of Sand Key.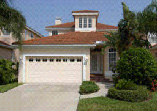 Sand Key Real Estate:
Condos, Condos and more Condos

There are a few single family homes located on Sand Key: when available they are priced between $600,000 to $1,200,000

Condominiums: all shapes, sizes and locations are available as low as just under $200,000 for a studio/1 Bedroom to $3,500,000. Loads of Amenities! Most complexes offer a gated guard house and a guard.







Belleair Beach

The City of Belleair Beach, chartered in 1950, is an upscale residential community located in Pinellas County. This lovely town is situated on a barrier island and serves as the home to a variety of families including those with children, empty-nesters, retirees, and seasonal residents.

Belleair Beach maintains a relaxed and peaceful atmosphere providing all the advantages of waterfront living and the charm of an old-fashioned neighborhood. Belleair Beach's residents are proud to have preserved one of the last strictly residential beach communities in Pinellas County.

The City of Belleair Beach is located in the west center portion of a tri-county metropolitan area. Within a short distance, residents and visitors can enjoy world class shopping, professional sporting events, dining, entertainment, and easy access to international air & sea ports.

The City's 4,500 feet of white sandy beach may be accessed through the City's four beach accesses, and three resident-only beach parking areas, and Morgan Street Park. Boaters enjoy the City's 7th Street Park Boat Ramp and the Municipal Marina. For those seeking a park experience, the City maintains eleven public parks including Morgan Beach Park, Bayside Park, and Crossman Park. The City also maintains two tennis courts and a basketball court near City Hall.


Belleair Beach Real Estate:
Single Family Homes: Priced from $325,000 to $10,0000 Intracoastal & Bayfront homes may be found starting in the $600,000 range and up

Condominiums: All of the condominiums in Belleair Beach are located on the Beach side. The prices range is as low as $200,000 range up to the $900,000 range.



Indian Rocks Beach
As the legend goes, Indian Rocks Beach reputedly got its name when a native medicine man, having heard of a healing sulfur spring to the west, brought his ailing chief to bathe in and drink of the water. After the Chief's miraculous recovery, annual pilgrimages were made to the spring, believed to have been located in what is now Kolb Park across from the Indian Rocks Beach City Hall. Early settlers seeing the Indians on their way to the "rock encircled spring" would say "The Indians are on their way to the rocks."

Around the latter part of the 1800's, a group from Cedar Key, among them L. W. Hamlin, explored the area and found a few settlers along the beach. The Hendricks family, according to a 1925 newspaper account, landed in the area in 1833 and homesteaded there. The first Indian Rocks Bridge was built in 1916, and its location, in the "Narrows," is indicated by a historical marker. The community grew and developed during its early days, but after World War II that growth started to accelerate rapidly. Today, Indian Rocks Beach is a thriving community that has maintained most of its original character, and supports a lively mixture of recreational activities. From the Nature Preserve, to the parks, to the sandy shores, you'll find a smile on every face, and a warm Florida welcome from the locals.


Real Estate on Indian Rocks Beach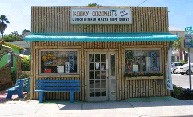 What a variety to choose from... Old and quaint beach bungalows, New Gulf Front Condominiums, Bay Front Homes, Small businesses, Beach Cottage Motels and Multi Family galore...

Single Family Homes - depending on the location and size prices range from $175,000 up to $3,900,000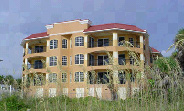 Condominiums - from bay to beach the prices range from $150,000 to $1,000,000

Multi-Family - duplex, triplex range in price from $200,000



Indian Shores
Indian Rocks Beach South Shore is one of the oldest and smallest beach communities and had the longest name. It was originally an Indian campsite and got its name from the large red rocks found along its shoreline.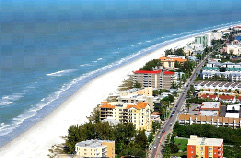 Its first "settlers" were a pair of Robinson Crusoe-Type brothers named Cochran.

In 1883 four Cedar Key speculators sailing to St. Petersburg, stopped to explore the Island. They were fascinated by the Island's possibilities for future development and bought it from the Cochran Brothers for a nominal sum. It is said the brothers bartered their Island "for little more than a string of beads and $25.00, figuratively speaking, like the Indians of Manhattan".

The region soon became a popular residential and vacation area. Many prominent Tampa residents built summer cottages on the Island, among them the D. B. McKays. Members of the McKay family served intermittently as Mayor of Tampa and publishers of the Tampa Tribune.

Until a wooden turn bridge was built in 1916, a ferryboat transported pedestrians to the Island, and a barge carried horses, buggies and a few automobiles to the summer resort.

In 1905 the Railroad ran a spur line from the mainland to the beach and a hotel was built, adding to the Island's popularity. The railroad spur was abandoned later, but the community continued to grow especially during the Post World War II building boom.

Indian Rocks Beach, South Shore was incorporated September 16, 1949 by general statute. It extends from 183rd Avenue to 202nd Avenue along Gulf Boulevard, the Community's north and south boundary.

The Town averages only a block in width between the Gulf of Mexico and by an area known as The Narrows. It was named Indian Rocks Beach, South Shore because the tiny community wanted a separate identity from the City of Indian Rocks Beach.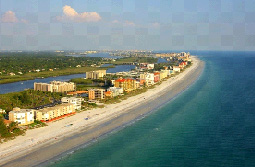 On September 16, 1949, a group of 42 registered voters and freeholders, met for the first time in the Beach Park Restaurant upstairs hall, to incorporate a Town under the Laws of the Florida Statute of 1941.


Indian Shores Real Estate
Indian Shores is one of my favorite beaches along Florida's Gulf Coast. Recently the power lines were buried underground and street lights replaced up and down the Boulevard. They are currently working on the installation of a bike path and additional sidewalks. Indian Shores offers a wide variety of condominium living as well as the occasional beach cottage. It is also home to the famous Salt Rock Grill.
| | | |
| --- | --- | --- |
| | Condominiums are available in all shapes, sizes and price ranges located on both the Gulf of Mexico and the Intracoastal waterway. Prices range from the high $100's to $3,950,000 for a luxurious penthouse condominium Residence. | |
| | You can also find the occasional Beach Front cottage, Multi Family property or a little cottage within walking distance to the beach. These prices range from the $200,000 up to $3 Million. | |

Redington Shores
Welcome to the Town of Redington Shores, Florida. Incorporated in 1955, the Town covers 220 acres with 1.19 miles along Gulf Blvd and a total of 6.33 road miles.

From the sun's first glimmer over the Boca Ciega Bay until it slips into the Gulf of Mexico, the Town of Redington Shores beckons visitors and residents to enjoy its wide beaches, fishing, boating, pleasant parks, natural beauty, and quiet soothing relaxation.

Midway between Clearwater to the north and St. Pete Beach to the south, Redington Shores is just 30 minutes from Tampa International Airport and professional football, hockey, soccer and baseball.

In addition to the miles of white sandy beaches and spectacular sunsets over the Gulf of Mexico, Redington Shores is an accessible vacation destination offering something for everyone. You will find it all within your reach; whether it's shopping, water-sports, recreation, golfing, boating, eco-tourism, professional sports, arts, culture, attractions or theme parks.

Some 2,500 people call Redington Shores home, while several thousand more spend all or part of the winter here, some for a few days, others for several months. Home may be a beachfront condominium, a beach house, a cottage, an apartment or maybe a home on a quiet street.
Redington Shores Real Estate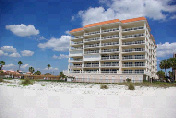 Condominiums range in price from the low $200,000 to the high of $2,500,000 for a brand new 5400 square foot private condominium. There are a wide range of condominium styles available from those that you can rent out on a regular basis when you are not using it yourself, 55+ communities or something designed for full time living.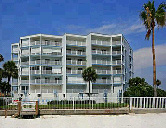 There are plenty of Intracoastal homes for boating enthusiasts or those that prefer the Waterways to the beach.

Waterfront homes can be found in the mid $300,000 range and up.

You will find a wide range of non-waterfront single family homes that are within easy walking distance to the beach. These homes are priced from as low as $174,000 and up depending on the size.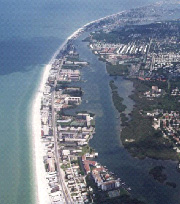 North Redington Beach
The Town of North Redington Beach lies in the heart of the Suncoast's beach communities, halfway between the northern and southern tips of the barrier islands. Incorporated in 1953, North Redington Beach has become one of the area's most desirable residential communities. It is predominately a town of single family, waterfront homes that occupy four fingers protruding in Boca Ciega Bay.

Along Gulf Boulevard, the main thoroughfare that links the beach communities, North Redington Beach offers a wide variety of housing, commercial and recreational opportunities for residents and visitors alike. These include condominiums, apartments, hotels and motels, fine dining establishments and popular breakfast and lunch restaurants.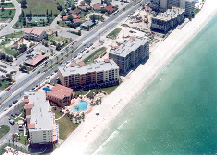 A mile long beach with easy access highlights its appeal to residents and vacationers. Once the home of the fabled Tides Bath Club, a resort frequented by sports and show business celebrities, North Redington Beach now showcases elegant condos, townhouses and homes on that property. With easy access to all the major cities and attractions in Tampa Bay, it is little wonder that 1500 permanent residents and all the seasonal visitors delight in calling North Redington Beach home.


North Redington Beach Real Estate
Condominiums are available in all price ranges. Starting with a condo hotel unit priced as low as $139,000 to a condominium in a more residential setting ranging with prices from $400,000 up to $1,000,000. All sizes offered.


| | | |
| --- | --- | --- |
| | Intracoastal, canal waterway homes or a home off the water can be found in the $200,000 range up into the Millions depending on home and lot size. | |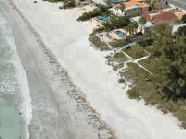 Redington Beach
The Town of Redington Beach, Florida, is located on a barrier island in the Gulf of Mexico. We are bordered by North Redington Beach to the north, Madeira Beach to the south, the Intracoastal Waterway on the east, and the Gulf of Mexico on the west. Redington Beach is primarily a waterfront residential community. Redington Beach is a state chartered municipality, located in Pinellas County, west of Tampa, Tampa Bay and St. Petersburg.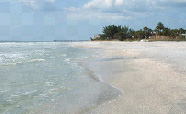 The town is approximately 1 square mile in size. Redington Beach boasts 4 town parks, 5 public beach accesses, a causeway with benches for relaxing and fishing, and a community recreation area with basketball courts and a large children's playground.

Primarily a residential community, comprised of single-family dwellings, with several low-rise condominium buildings and only two commercial properties. Redington Beach is bordered on the north by the town of Redington Shores and on the south by the city of Madeira Beach. It is bounded on the east by Boca Ciega Bay and the Intracoastal Waterway, and on the west by the Gulf of Mexico.

Redington Beach is a unique residential community nestled along the Barrier Islands in Pinellas County, Florida. Established in 1944, the Town of Redington Beach has approximately 828 households with a total population of about 1,680 people.


Redington Beach Real Estate
Beach Homes located directly on the Gulf of Mexico are priced between $1,900,000 and up. Occasionally you may find one for less.


Intracoastal Homes are priced as low as $399,000 up to $2,000,000

There are very few Condominiums offered on Redington Beach. Prices range $399,000 to $1,200,000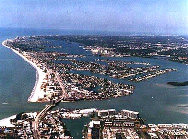 Madeira Beach
Madeira Beach, located halfway between St. Pete Beach and Clearwater Beach offers a quieter alternative to these more populated beaches, making it an ideal vacation spot for the entire family.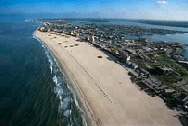 Family members of all ages will enjoy shopping, eating, and the various other activities available at John's Pass Village, a main attraction of Madeira Beach. With more than 100 unique shops, you could spend the entire day searching for that perfect souvenir!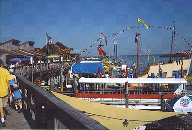 Those who prefer sightseeing from the water's edge can take a walk down the 1,100-foot waterfront boardwalk overlooking the intercoastal waterway, where you can see dolphins, pelicans, bald eagles and even an occasional manatee!

In addition to all the daily activities at John's Pass Village, be sure not to miss seasonal events such as the Annual John's Pass Seafood Festival, held the last weekend in October, where you can join more than 100,000 other people in celebrating the "Grouper Capital of the World." Enjoy the area's fresh local grouper while listening to live entertainment and seeing the local talent in the arts and crafts show. On your visit, be sure not to miss the upcoming events at John's Pass Village.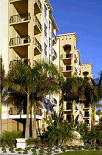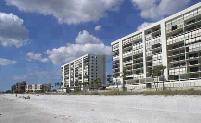 Madeira Beach Real Estate
Take your pick. Whether you are looking for a condominium for year round living, vacation place or a rental investment Madeira Beach offers plenty of options.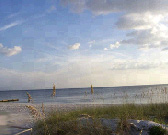 Pricing for Beach Condominiums is as low as $200,000 up depending on your needs. There are also several luxury condominiums offered in the $900,000 to $1.5M range


| | | |
| --- | --- | --- |
| | | Single Family Homes - Beach front, waterfront and non waterfront and beach area bungalows are plentiful. Available housing from $150,000 up to $1,900,000 range. |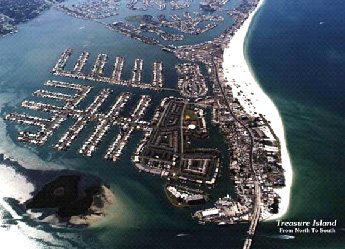 Treasure Island
Treasure Island, Florida was first settled by the Timucan Indians around 300 A.D. The Timucan established small communities and traded with other Indian Nations until the arrival of Spaniard Panfilio de Narvaez in 1528. After failing to find the gold he was seeking, de Narvaez left after two weeks leaving behind countless dead and tortured Timucans.

The area slowly became populated by Europeans and their descendants who primarily lived in beach shacks and eeked out a living by fishing and harvesting turtles.



The "Great Gale" of 1848 created John's Pass on the Island's north end and split off two smaller islands which are now the Isle of Palms and Capri Isle.

Around 1900, St. Petersburg experienced a land boom which brought weekend tourist to the beaches. No bridges existed so travelers had to rely on mostly unreliable ferry service. The State began selling the Island at a cost of $1.25 an acre. The first hotel was built on Treasure Island in 1915 and was named the "Coney Island."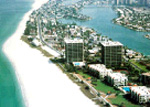 To generate interest in the properties being developed a couple of enterprising property owners buried and then "discovered" a couple of wooden chests on the beach. Claiming the chests were filled with "treasure" the news of the discovery spread quickly and people began calling the area Treasure Island. The name stuck.

Treasure Island, Florida is located on Florida's beautiful Gulf Coast and is blessed with miles of gorgeous white sand beaches that boast that "Old Florida" feel yet Treasure Island is part of the Tampa Bay region, one of the nation's fastest growing metro areas. Treasure Island offers you and your family a quiet "laid back" atmosphere while being just a short drive from Florida's major theme parks.




Treasure Island Real Estate

Single Family Homes - Homes and Cottages are available in all shapes, sizes and age. Beach Front Homes or Cottages can be found as low as $1,000,000 to several million. Intracoastal, Canal and Bay Front Homes start in the mid $400,000's - $3,000,000.
Intracoastal, Canal and Bay Front Homes start in the mid $400,000's - $3,000,000.











Condominiums are available on the Beach, Intracoastal, Bay as well as non-waterfront. Pricing can be found for almost any budget.

Gulf Front Condos or Condo Hotels range in price from $350,000 and up depending on size and view.

Other island locations are available as low as $115,000 and up.

There is something for Everyone!

Multi Family, Duplex and Old Cottage Style Properties - Beach Front are still available on Treasure Island. Prices may range in the $900,000 and up price

Other island locations can be found from $200,000 and up.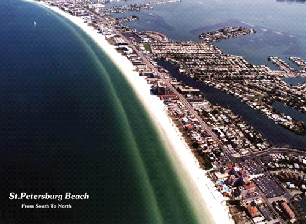 St. Pete Beach
The City of St. Pete Beach is a barrier island community located just off the Pinellas County mainland with a permanent population of about 10,032 (latest estimate from the University of Florida) The city is also a popular winter residence for many people living in other parts of the United States, Canada and Europe.

Property records show that about 28 percent of the total residential dwelling units in the city are owned by people claiming the primary residence elsewhere.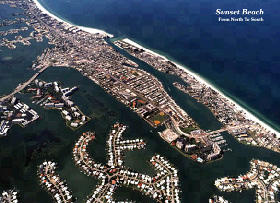 The city was incorporated in 1957 with the consolidation of the Towns of Pass-a-Grille, Don CeSar, Belle Vista, St. Petersburg Beach and unincorporated Pinellas County to become the City of St. Petersburg Beach. In 1994, the citizens voted to shorten the name to St. Pete Beach to lessen the confusion with the City of St. Petersburg, located on the mainland to the east.

St. Pete Beach is a significant tourist destination, having over 3,000 transient accommodation units, including major hotel and motel operations as well as many smaller, more intimate lodging facilities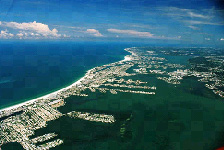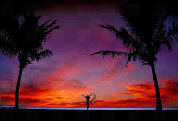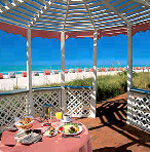 St. Pete Beach Real Estate
Condominiums/Townhomes range from the very High End to the wonderful Vacation Resort Condominium and everything in between.

Beach Front Condominium prices range from the low side of $199,000 to as much as $2,500,000.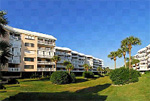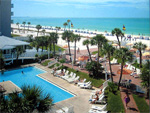 Bay Front Condominiums are also available in many different prices ranging from the low side of a $85,000 to the very High End of $2,000,000 for a gated community.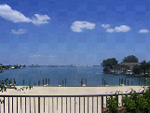 Single Family Homes - You can find just about anything you want in a Single Family. From the beach bungalow to the very High End. Beach bungalows, non-waterfront homes, waterfront homes with boat slips or Gulf Front Homes. The prices range from $179,000 up to $7,000,000.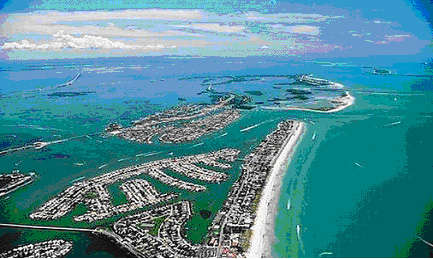 Pass-A-Grille Beach
Located on the southern end of St. Pete Beach, south of the historic Don CeSar Hotel, Pass-a-Grille is but one block wide and 31 blocks long. The village is bordered by the bay on one side and the Gulf of Mexico on the other.

According to legend, it is thought that Pass-a-Grille derives its name from the French Passe aux Grilleurs, which means "the passageway of the grillers" in honor of the fisherman who used to grill their catch of the day on the shore when the island was still a post for pirates.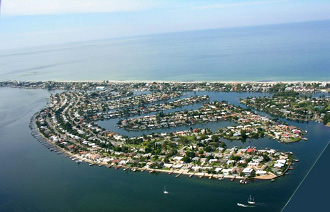 In 1857, John Gomez self styled 'last of the pirates', began bringing excursionists here from Tampa which gave this area the distinction of perhaps being the oldest resort on Central Florida's West Coast. Zephaniah Phillips, the first homesteader settled here in 1886 and by the turn of the Century Pass-A-Grille had its first hotel and a ferry boat service from what is now Gulfport. The town of Pass-a-Grille Beach was incorporated into the city of St. Petersburg Beach in 1957 and in 1989 a section of Pass-a-Grille was declared a National Historic District.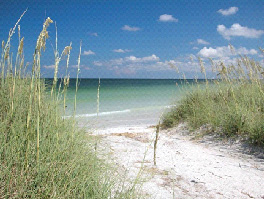 Think miles of beach, powdery sand and stunning views of the Gulf of Mexico. At the southernmost point of the beach, fisherman hang their poles over the pier. Along the shore, sea shell enthusiasts comb the sand for some of the most unique and exquisite shells in the area. At dusk, watch the pinkish orb of the sun sink into the water. There are restrooms, an outdoor shower to rinse off and a good concession stand that often has beer specials. It's located right on the beach.

The area's narrow streets ensure traffic remains at a crawl. Don't come here if you can't deal with driving less than 15 miles per hour. Also, this isn't really a party beach. Everyone is packed in tight, and neighbors won't stand for loud noises after dark. There are no lifeguards.

St. Pete Beach Today History Article
Floridahistory.org History Article
Pass-A-Grille Real Estate
Business Opportunities include restaurants, specialty boutiques, etc.
| | | |
| --- | --- | --- |
| | Single Family - From charming cottages, duplexes and waterfront homes range from $275,000 upwards to $5 Million | |
| | | |
| --- | --- | --- |
| | Condos on Pass-A-Grille range from 1 bedrooms with character starting around $170,000 to the opulent ranging in price up to 1.8 Million. | |